Paver Sealing in Gulf Breeze & Pensacola FL
BRICK PAVER RESTORATION AND CONCRETE SEALING SERVICES
Brick Paver Restoration Services
Licensed & Insured
Residential & Commercial
Driveways & Walkways
Pool Decks & Patios
Superior Craftsmanship
Exceptional Customer Service
Protect your brick paver driveway with professional paver restoration services. Over time, paver driveways, walkways, and entryways becoming dirty, worn, and dingy from foot and vehicle traffic. Emerald Coast Paver Sealing offers professional brick paver sealing and paver cleaning services throughout the Emerald Coast. We start every paver restoration project by completely cleaning and washing the existing pavers to remove old sealing and dirt. We then remove the dirty water, solution, sealant, dirt, grease, grime, and efflorescent mineral deposits from the surface and joints. After the new clean surface dries, we then resand the joints with a quality poly sand in a color of your choosing. Some of the sands also contain a mildew and algae preventer. We use Trident waterproof sealant that provides a waterproof floor coating that protects the driveway, walkway, entryway, pool deck, retaining wall or other exterior paver surfaces from UV Rays, mold, algae, oil, grease, stains, weeds, and other matters that damage and dirty the surface. The newly restored paver looks great and is protected from the elements.
Brick Paver Cleaning
We start all paver cleaning projects by pretreating the areas that will be cleaned with specialized solutions and degreasers to help remove and stop the growth of the mold, mildew, algae, and stains from the pavers. We use a professional surface cleaner (power washer) to clean the entire area to remove the contaminants. Once the surface is completely clean from all debris, we do a final rinse to ensure we remove all remaining dirt. This is the first step in the paver restoration process.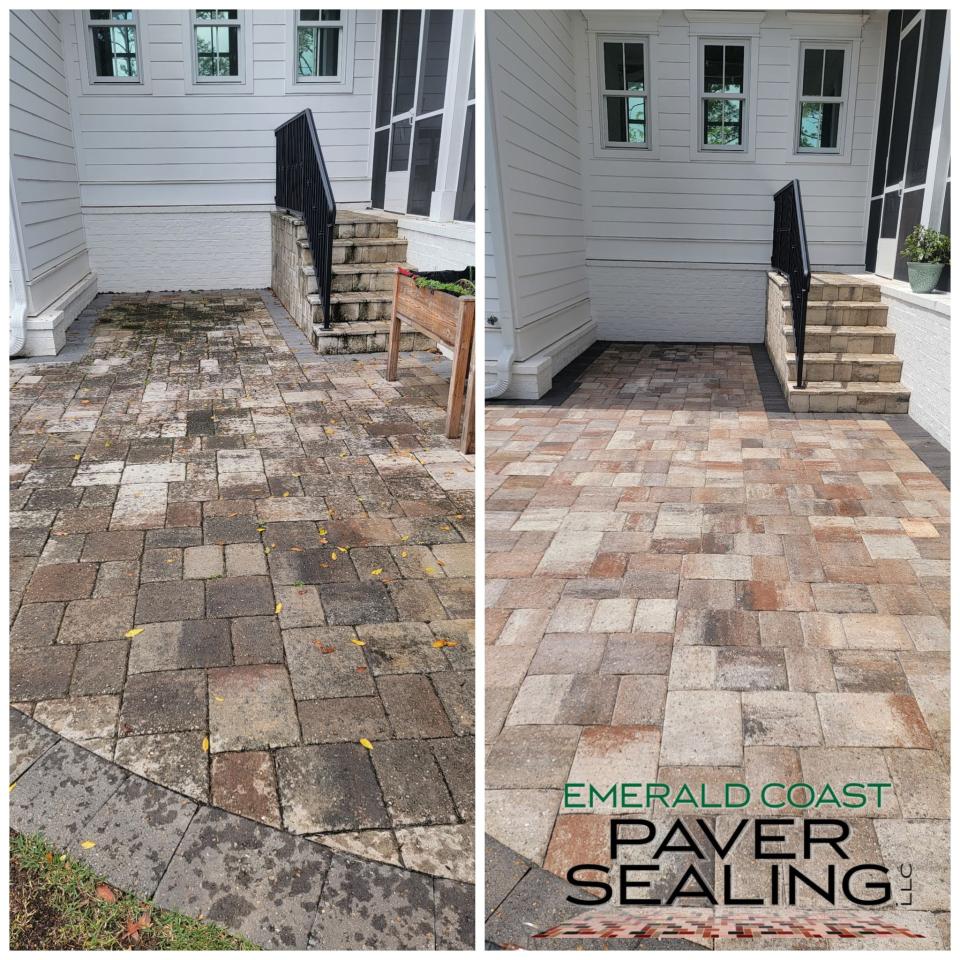 Brick Paver Sealing
Once the surface dries after our professional paver cleaning, we then refill the sand in joins as needed. Depending on the chosen service, we then apply 1-3 coats of Trident high-quality waterproof sealant. This waterproof sealant provides a waterproof coating on the paver that protects the driveway, walkway, entryway, pool deck, retaining wall or other exterior surfaces from UV Rays, mold, algae, oil, grease, stains, weeds, and other matters that damage and dirty the surface. This results in a like-new beautiful looking surface that is protected and looks great. Contact us today for a free estimate.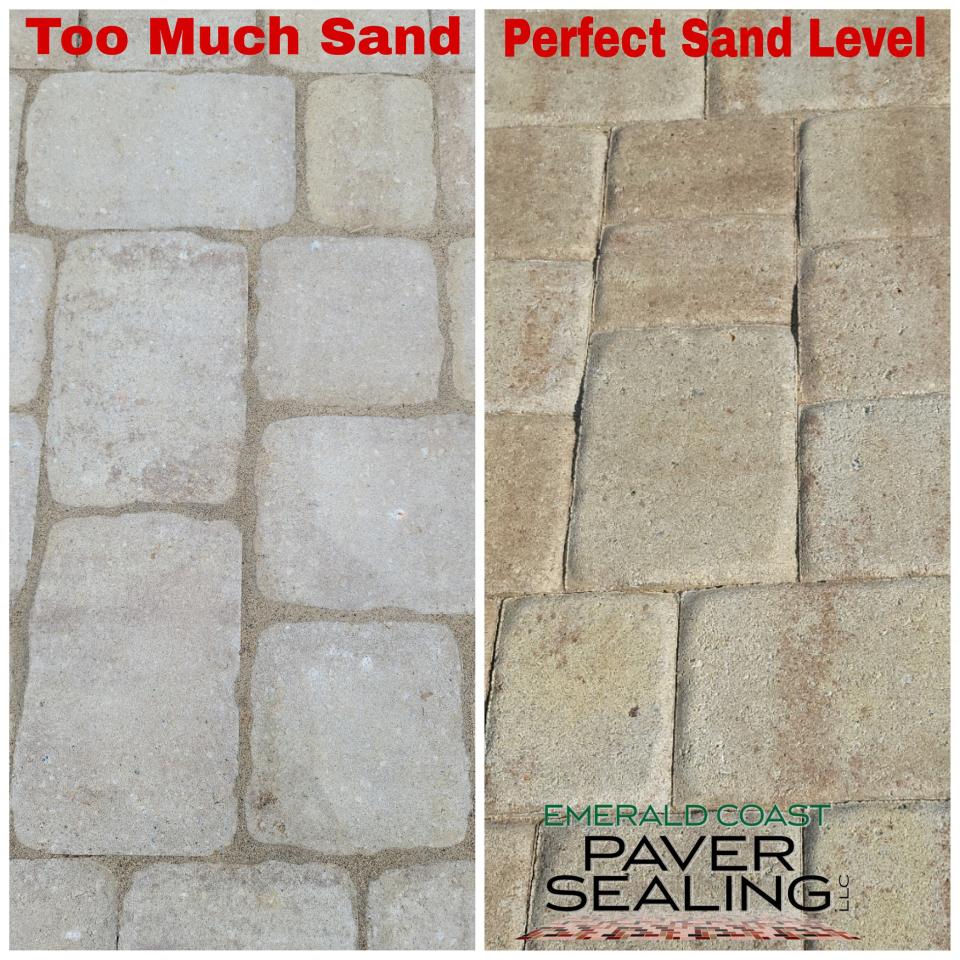 Concrete Driveway Cleaning and Sealing
Our driveway cleaning and sealing process are very similar to the brick paver process. We use the same equipment and products to completely clean the surface before applying Trident sealing products. You will be amazed at the look of the new surface after the concrete is power washed using a surface cleaner. Once the sealant is applied, the concrete surface will be protected from the harsh Flordia elements. Due to our climate, it is recommended to reseal the concrete every 3-5 years.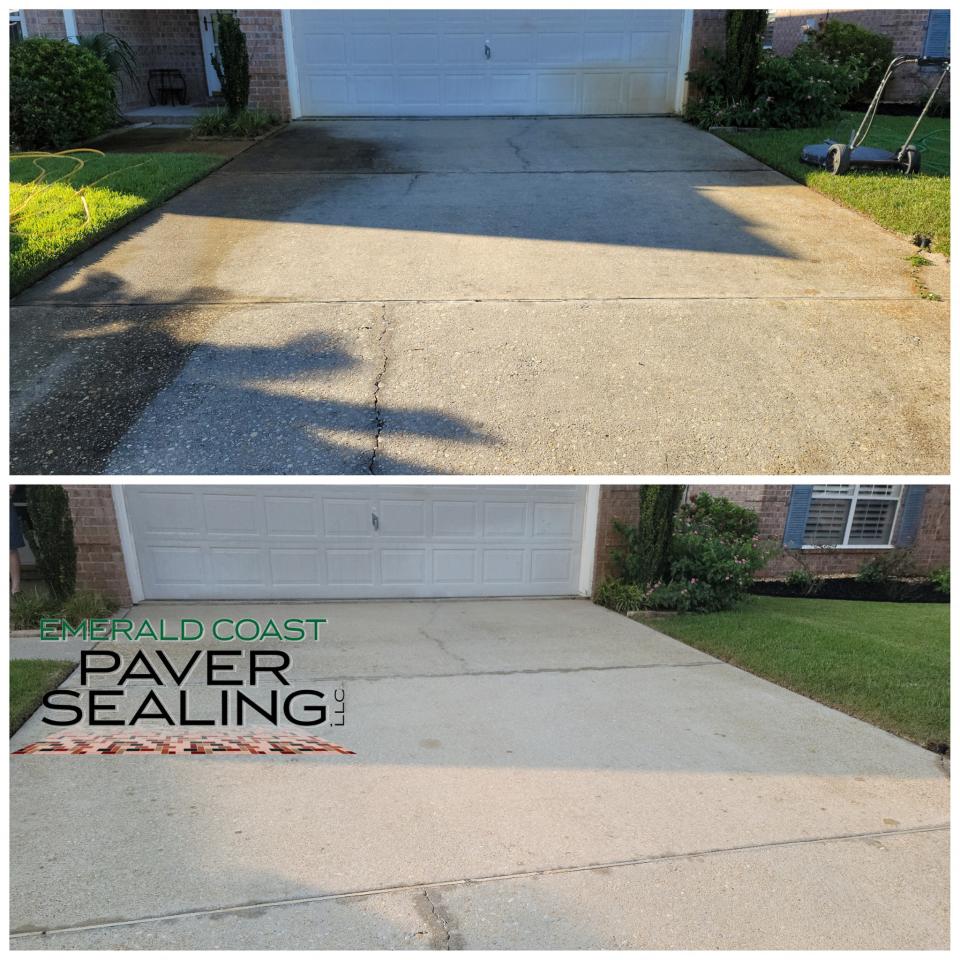 Pool Deck Cleaning and Sealing
Emerald Coast Paver Sealing specializes in concrete, stone, and brick paver pool deck sealing and cleaning throughout Pensacola, Gulf Breeze, and the surrounding areas. We are exterior cleaning experts and have the experience and knowledge to clean and seal all types of brick pavers, concrete sidewalks, stained concrete walkways, driveways, columns, brick and block walls, around the home and pool. Our professional pool deck paver cleaning and sealing specialists use only the best sealing products in the industry (Trident). Flagstone, pavers, and brick are beautiful accents to homes, but also require maintenance and care to prevent permanent erosion, crumbling, and staining. Contact us today for affordable and professional pool deck restoration services.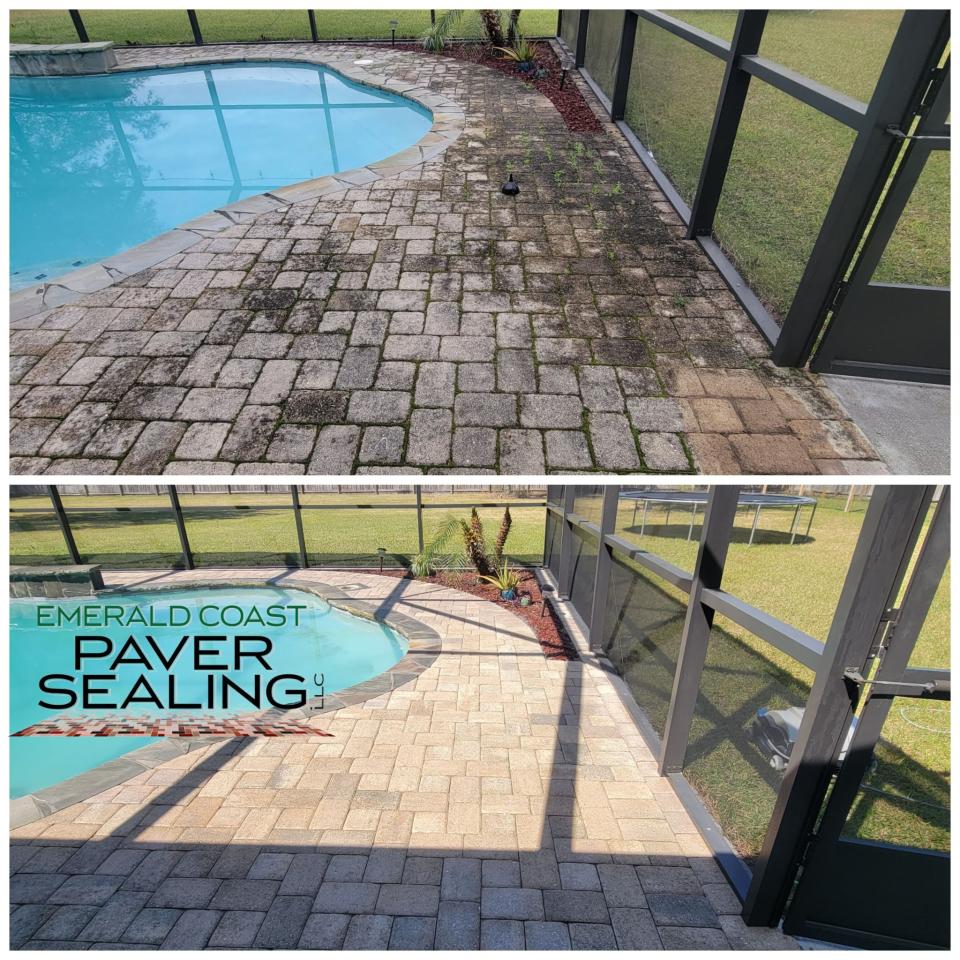 Clay Removal
Unique challenges require customized solutions. Our team works with each new client to evaluate needs and set goals for each phase of the project. We take pride in being able to offer robust solutions while providing personalized service and high-quality products and materials. We offer a dedicated and motivated staff that will work with you through each phase of your project. We are focused on meeting your specific needs and goals while providing consistent, repeatable results. So, if you've been looking for solutions but are still looking for the right partner for your next project, contact us today and let us talk with you about how we can make the difference.
We look forward to working with you.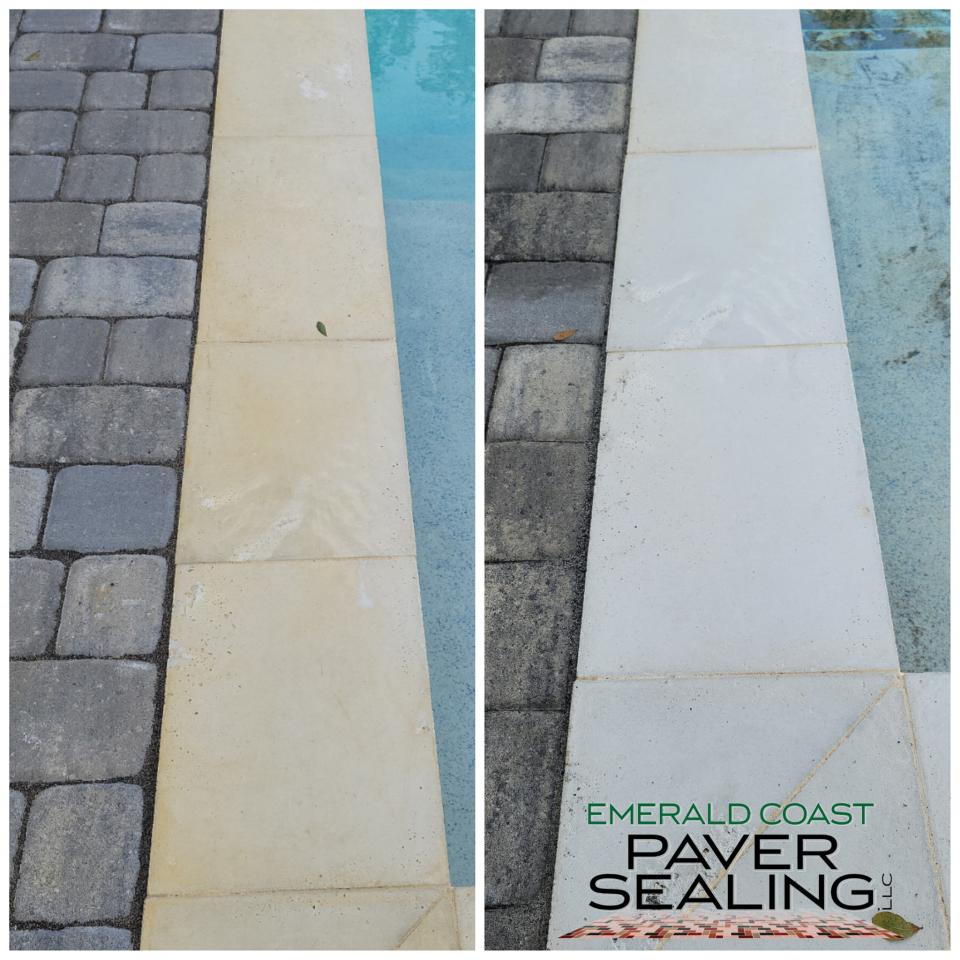 Hot Water Cleaning
Is your pavement or concrete changing colors from oil, grease, and mineral deposits?

Greasy, slippery walkways not only don't look good, but can also be a safety hazard for people on your property. Let Emerald Coast Paver Sealing LLC help protect you from injury or lawsuits while restoring curb appeal with professional pressure washing services. In addition, hot water pressure washing will cut through years of grime quickly and effortlessly, saving you time and money.

Need to remove algae or mildew from patios, landscaping, BBQ or fire pits, and pool areas?
Dingy pools, patios, and recreation areas aren't fun or inviting. Emerald Coast Paver Sealing LLC is ready with the experience and equipment to make your patios, pool areas, backyard BBQs and other recreation areas clean, bright, and relaxing.

Contact us today for a free estimate on your next curb appeal and clean up project.